Novita Code RIGHT
---
Medical coding plays a vital role in your healthcare facility's revenue cycle. Your coding must be accurate and compliant to maintain healthy revenue. Novita Management Services provides outsourced medical coding services for physician offices, hospitals, ambulatory surgical centers, and a many other healthcare providers.
Our coders can meet all your coding requirements, with expertise in ICD-10, CPT4/HCPCS, HCC, MS-DRG, and more. Our coders are all greatly-trained and experienced, and we guarantee a 99% or greater accuracy, so you can be assured your facility is receiving the best quality service. All our coders are AHIMA and/or AAPC certified. Quality and Security is our number one priority, and we always work to maintain compliance.
As a part of our medical coding services, we offer 24-hour turnaround time and code while you sleep to give your facility the accurate coding it needs quickly. We also offer holiday and weekend coverage at no additional cost if requested. Our 3-Tier Quality Assurance Process identifies and fixes any coding and/or compliance errors to ensure our coding is accurate every time.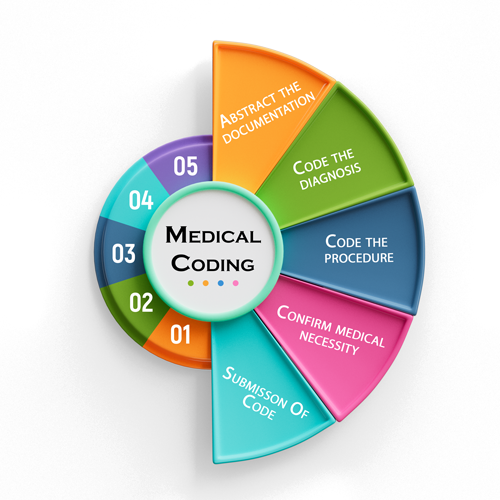 HCC / RISK – ADJUSTMENT CODING & AUDIT
Assigning appropriate HCC value to the corresponding MRA Diagnosis code.

Compliance to official coding rules and CMS guidelines for risk adjustment reporting.

Chart Reviews and Audits of medical records to detect HCC coding inaccuracies or missing diagnoses affecting "Risk-Adjustment Factor" (RAF) score.

Flexible staffing scalability up to full-outsource capacity.

Highly trained coders, frequent re-trainings to keep them up to date with the changes in the industry
Why To Out Source Medical Coding?
---
There are several reasons to outsource medical coding.
Cost Containment: Outsourcing radiology coding services can decrease administrative cost.
Improving accuracy: Since a team of trained professionals is taking care of the coding, you can expect a higher degree of accuracy, which then translates to fewer claim denials and quicker reimbursement.
Resource Reallocation/Management: Leave your practice to do what it does best, which is treating patients.
Outsourcing coding saves time, allowing you to focus on your practice rather than on documentation. Plus, medical coding companies that double as billers can help make your claim submission a smooth and seamless process, with little to no errors and quicker reimbursement for services rendered.
The Future Ready RCM
---
Start your practice with our assistance without paying any setup charges or any cost other than our service fee. Novita Management services are not software-dependent and we work seamlessly with all practice management tools.
Contact Us or Request a Free Quote if you are interested in our Medical Coding & Billing Services, our support team is available to answer your queries for free.
Novita
Service Settings
Short Term, Acute Care Hospitals
Health Systems
Ambulatory Surgery Centers
Physician Offices
Critical Access Facilities
Health Plan Level (Insurance Company)
Expertise With
ICD-10-CM/PCS
CPT4/HCPCS
HCC (Hierarchical Condition Categories)
Medicare Advantage Risk Adjustment
MS-DRG, APR-DRG
APCs
POA (Present on Admission)
Physician Query Processes
Service Types and Specialities
Acute Care Inpatient
Emergency Department
Ambulatory Surgery
Interventional Radiology
Outpatient Diagnostics
Ancillary Visits
Physician Office Visits
E&M (Evaluation and Management) Levels
Observation Services
Numbers & Achievements
We did awesome work with business ethics.

15
Years of Experience

99
% First Pass Rate

15
% Revenue Increase

100
% Coding Compliance
Get started with Novita
Get in touch with us today to achieve 100% compliance. Get Quick Quote.
I have been using Novita for my coding for the last couple of years, and I no longer fear payers' audits. They code my charts, do an internal audit of the charts once every three months which makes me always ready to respond to any queries insurances come up with on my coding. They do their job best while I do mine which is to focus on patients' care.
It is always hard to keep the scheduling staff trained as the employee turnover is high. I suffered for several years mentally and financially as I had to keep hiring, training, and then seeing them go for another opportunity. It kept on happening until Novita took over appointment scheduling, confirmation, and benefits verification. They have been doing an exceptional job.
Just a year ago, I had to spend a lot of time babysitting my biller and still many of the claims would remain unpaid after months of billing. Novita Management Service has not only cut my cost to half, but I have seen about a 12% increase in monthly revenue. They are the best.