Credentialing Process at Novita
---
There are various steps involved in the complete credentialing and contracting process. Every step is very important and should be managed very carefully as any errors can lead to a longer credentialing process and can result in heavy financial loss for the provider/practice. Our expert with 15 years of insurance relationship management experience will help you sail through the difficult steps with ease.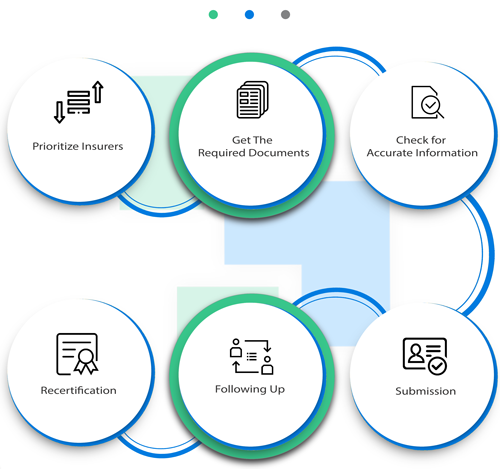 Get Ready for The Future, Today!
Credentialing and contracting are the basis of starting a clinic or healthcare facility. It sets the foundation for how your practice is going to do in the future years.
The healthcare organization and provider cannot be paid by that carrier for services rendered unless they are properly credentialed. Each insurance carrier has a unique credentialing process and every physician in your practice will need to go through the medical credentialing process for that carrier before claims can be processed. Any clerical error or missing information may cause the credentialing to be declined. That scenario can lead to a longer wait time for payment of services and, in some cases, may mean that payments will not be honored by the insurance carrier. Physicians cannot be granted privileges in most healthcare organizations without first completing the medical credentialing process.
Request a free evaluation of your practice from our financial consultants.
Benefits of Novita Credentialing Service
---
With our diligent credentialing and Enrollment services, you get the following benefits:
o Get credentialed faster with all significant payers
o Reduce claim denials and improve cash flow
o Get more patient referrals from the network
o Avoid piles of paperwork with our document management system
o Get support for filling up cumbersome application forms
o Reduce costs of the credentialing process with our global delivery teams
o Get timely reports on the status of your applications
We have helped many providers and practices with the initial credentialing, re‐credentialing, and getting the best out of
their practices.
What Novita Offers
---
We start with the first step and collect all the required information and documents to file applications. The information and documents are provided by the provider or practice. The documentation requirements vary from payer by payer.
Novita
New Credentialing

 Medicare Individual Credentialing

Medicare Group Credentialing

Individual providers benefit reassignment to group

Medicaid Individual Credentialing

Medicaid Group Credentialing

Individual and Group Credentialing with Commercials
Contracts Creation and Maintenance
New Group/Individual Practitioner contracts

Adding / Deleting providers in the existing contract

Adding/Deleting location in the current contract

Adding / Deleting plan types ( Line of Business ) in the current contract
CAQH Attestation
CAQH application filing

CAQH quarterly attestations

Expirations and Renewals

The tracking expiry date for State DEA License, Board certificate, and Malpractice Insurance
Novita
Provider Data Maintenance – Update Management on Payer Systems

Provider demographic update in payers file. 

Provider directory maintenance on payer websites. 

EFT/ERA enrollments
Tracking and Analytics
Maintaining a repository of provider's credentialing documents

Maintaining Contracting agreements

Tracking credentialing dates, expiration, and alerting dates to initiate credentialing processes

Working with the denials team to understand if there are any claim denials due to credentialing issues
Numbers & Achievements
We did awesome work with business ethics.

15
Years of Experience

99
% First Pass Rate

15
% Revenue Increase

100
% Coding Compliance
Get started with Novita
Get in touch with us today to get better contracted rates. Get Quick Quote.
Physician Credentialing FAQs
I have been using Novita for my coding for the last couple of years, and I no longer fear payers' audits. They code my charts, do an internal audit of the charts once every three months which makes me always ready to respond to any queries insurances come up with on my coding. They do their job best while I do mine which is to focus on patients' care.
It is always hard to keep the scheduling staff trained as the employee turnover is high. I suffered for several years mentally and financially as I had to keep hiring, training, and then seeing them go for another opportunity. It kept on happening until Novita took over appointment scheduling, confirmation, and benefits verification. They have been doing an exceptional job.
Just a year ago, I had to spend a lot of time babysitting my biller and still many of the claims would remain unpaid after months of billing. Novita Management Service has not only cut my cost to half, but I have seen about a 12% increase in monthly revenue. They are the best.